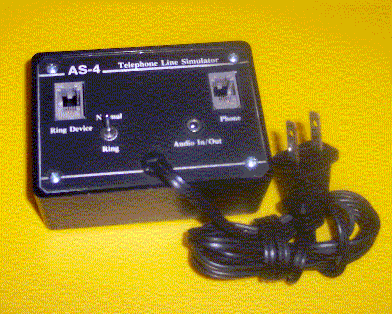 The AS-4 was designed to meet the rising demand for an inexpensive, quality phone line simulator. The AS-4 phone line simulator, simulates both standard telephone company lines and DID lines.
Provided are two RJ-11 single line jacks that you connect to your Voice Card or other Telecommunication Device, and to a simple single line telephone. The unit operates on standard 110VAC house power. Operating the AS-4 phone line simulator couldn't be simpler, just take the telephone OFF HOOK and RING UP the Voice Card.
When the Voice Card activates, you will have talk battery and you will be able to use the touch tones on your telephone. When you finish your work with the Voice Card, simply hang up the telephone and the AS-4 phone line simulator will immediately make the Voice Card disconnect.
For added convenience, you also have an 1/8" mini jack for recording HIGH quality audio into the Voice Card; you can also use the AUDIO IN/OUT for making tape archives of your messages.